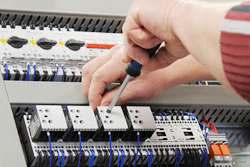 Automation is an essential element in the industry. Nowadays, prices are under pressure and production has to be increased without expansion of the staff. The production will have to be partially or completely extended, and/or taken over by an automated machine equipped with a Programmable Logic Controller (PLC) or Industrial Panel Computer (IPC).
Software for PLC's
In the programming field of PLC's, we have experience with, amongst others Siemens, Omron, Mitsubishi, PILZ, Allen Bradley and Wago. We have the programming software available for all these.
If it concerns a less complex machine or relatively simple process, then in most cases, a text display or touch screen is sufficient. The choice depends on the available budget and/or client's preference and can vary from a 2 line text display to a 15" touch screen. For both and every solution in between, we can help you. We have experience with the application of among others Omron, Mitsubishi, Proface and Siemens displays.
Visualization - Wizcon, WinCC flexible and PVSS
In the field of visualization, we have experience with Wizcon, "WinCC flexible" and PVSS
Industrial networks - Profibus, Profinet, Ethernet, ASi Bus and Compobus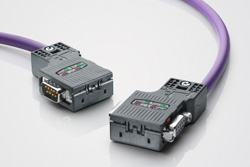 Machine builders and end users have often preference for industrial networks over conventional wiring. Because of the good quality of the current industrial networks and the overall competitive price, this is a common practice. Digitron Engineering has experience with for example Profibus, Ethernet/Profinet, Asi-Bus and Compobus. We can design, supply and commission networks for you.