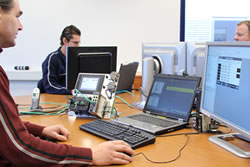 In the world of automation engineering, technologies and legal requirement are constantly developing and changing at an ever increasing rate. It is increasingly difficult to maintain the knowledge to meet the customers' requirements and wishes, especially since we often have an advisory role. It is therefore necessary that we attend regular training courses on these new developments to keep our knowledge up to date and to come with new idea's. During the engineering phase of a project, many decisions have to be made, which in the end will lead to a control system that meets the requirements of the customer and is according to the rules set by the law. The correct component selection is not a task to be underestimated as it has to consider cost, quality and the compliance of any relevant standards, only be regularly updating our knowledge can we be confident that the correct choices are made.
Drawing electrical schematics and panel design
There are multiple drawing packages available at Digitron Engineering BV to make the designs for the several projects. The customer can decide which package is going to be used. In this way, it is possible to meet various customer-specific wishes.

The drawing packages we use are:
EPLAN
WSCAD
Autocad
MS-Visio
Often, we use the professional drawing package Eplan to meet the various requirements.
With these packages it is possible for a wide range of clients to meet their specific requirements. These drawings packages enables us to generate a complete set of drawings, using the automatic features available withing the chosen package, in the shortest possible time. Often, the drawing package Eplan is chosen for it's professional and flexible functions and the user friendly interface.
Work preparation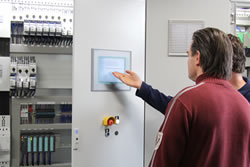 A control system has to be safe, reliable and according to customers needs. By choosing the appropriate components, the requirements relating to safety rules are mainly complied. Our engineers have had several courses in the field of machine safety, and with their knowledge and experience they can make a suitable configuration which meets the requirements.
High reliability is achieved by applying well-known brands and a correct harmonization of this with the rest of the implemented components. For every control system ,the best possible configuration is searched for. To obtain this, we look in each control system to the optimal economic and quality relation to get the best responsible choice with the applied materials.
Every customer has specific needs and requirements. We will endeavor to implement these as much as possible, if they can be met in technically and economically responsible way. If it is not possible to do it in line with the customers wishes, we will discus it with them and together search for alternatives. With our experience, we can already recognize these problems in the design stage, this will enable us to implement the alternatives directly, so reducing cost and time.